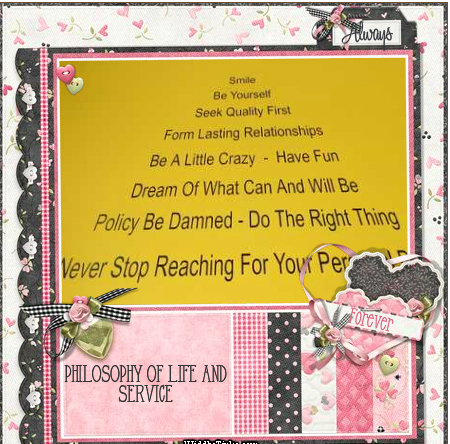 KATA-KATA YANG PATUT DIUCAPKAN OLEH SESEORANG ADALAH KATA-KATA YANG DIUCAPKAN PADA SAAT TEPAT, YANG MENGANDUNGI KEBENARAN, DIUCAPKAN DENGAN LEMBUT, MEMPUNYAI TUJUAN YANG BAIK, DIUCAPKAN PENUH CINTA KASIH, INILAH KATA-KATA YANG SUDAH SEPATUTNYA DIUCAPKAN, TIDAK MENYAKITI TIDAK MENCELA
DAN TIDAK MENGUTUK!!! SESEORANG YANG INGIN MENEGUR KESALAH ORANG LAIN, SEHARUSNYA BERTANYA DULU PADA DIRINYA SENDIRI, APAKAH IA TELAH MELAKSANAKAN PERBUATAN DAN UCAPAN BENAR? ????? ??????
Words that should be uttered by a person are: The words spoken at the
right moment, which contains the truth, spoken with a soft, have a good,
full of love is spoken, these words are supposed to read, not injury,
not denouncing and condemning! **** Anyone who wishes to criticize
others' faults, should be asked first on himself, if he had performed
acts and talks the truth?
MEMIKIRKAN APA YANG SELAMA INI KUPIKIRAKN YANG TAK
TERPIKIR OLEH AKAL FIKIRANKU YANG MEMBUAT FIKIRAN KU TAK KARUAN KERANA JIKA HANYA DI FIKIR-FIKIRKAN HANYA AKAN MENJADI SEBUAH FIKIRAN YANG SELALU TERLINTAS DI FIKIRAN KU KERANA APA YANG KU FIKIRKAN SAMA DENGAN APA YANG KALIAN FIKIRKAN DAN FIKIRKANLAH FIKIRANKU DAN FIKIRANMU MENYATU
DALAM SEBUAH TANDA TANYA BESAR YANG HARUS DI FIKIRKAN.
think of what all this I do not think that there I think the sense of
mind to make my mind not known because if only in thought, thinking
about just going to be a thought that always crosses my mind because
what I think the same as what you think state and pikirkanlah, my mind
and thoughts as embodied in a large question mark must be thinking. not
to have said poor and disbelieve in our minds and do not be so in the
thinking, but think of what would become a successful mindset.
HIDUP BUKAN HANYA TENTANG HITAM DAN PUTIH MASIH
BANYAK WARAN LAIN DALAM HIDUP
life, not just about black and white other colors a lot in life.
PERTEMUAN ADALAH JODOH DAN PERPISAHAN ADALAH
TAKDIR
meeting is matchmaking, and separation is fate.
YANG TAJAM ADALH LIDAH YANG BESAR ADALAH NAFSU
Sharp is a tongue
that big is passion