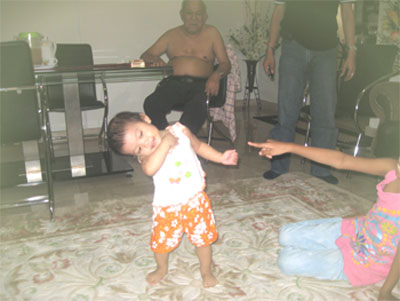 Sebenarnyer anak I tgh berposing maut gitu….gitu…gitu, tak kuasa I nak melayan. Itulah yang I gusari. Kalau kecik2 dah pandai bergaya esok dah besar nak jadi Peragawati ke Cik Putri oiiiiiii.
Mungkin anak I nie dari lahir saja dah tahu , Ape tu Camera? Sbb permulaan ayat sblm dia nak post nie , kite akan ckp Camera 1 ,2 ,3 Action tulah hasilnyer. Memang seronok melihat telatah anak2 kite seperti orang besar nie. Apetah gi
dgn aktifnyer yg tak terkate.

Last weekend, my brother inlaw bring his son same age with my
daughter to my house …, I buatlah makan2 sikit nak tahu I masak nasi
bukhari. CHef nyer MOTHER IN LAW I YANG masak.
Sorrylah I tak post pun. NAsi BUKhari I tu.
HMMMMMMMMMM……. tengoklah masing2 dah penat main. PUTRI Tgk FARIS baring Ape lagi anak I pun landing sekali.
GAtai kan…..